I'm originally from Delaware, and I've been in NY for about 12 years or so, a while.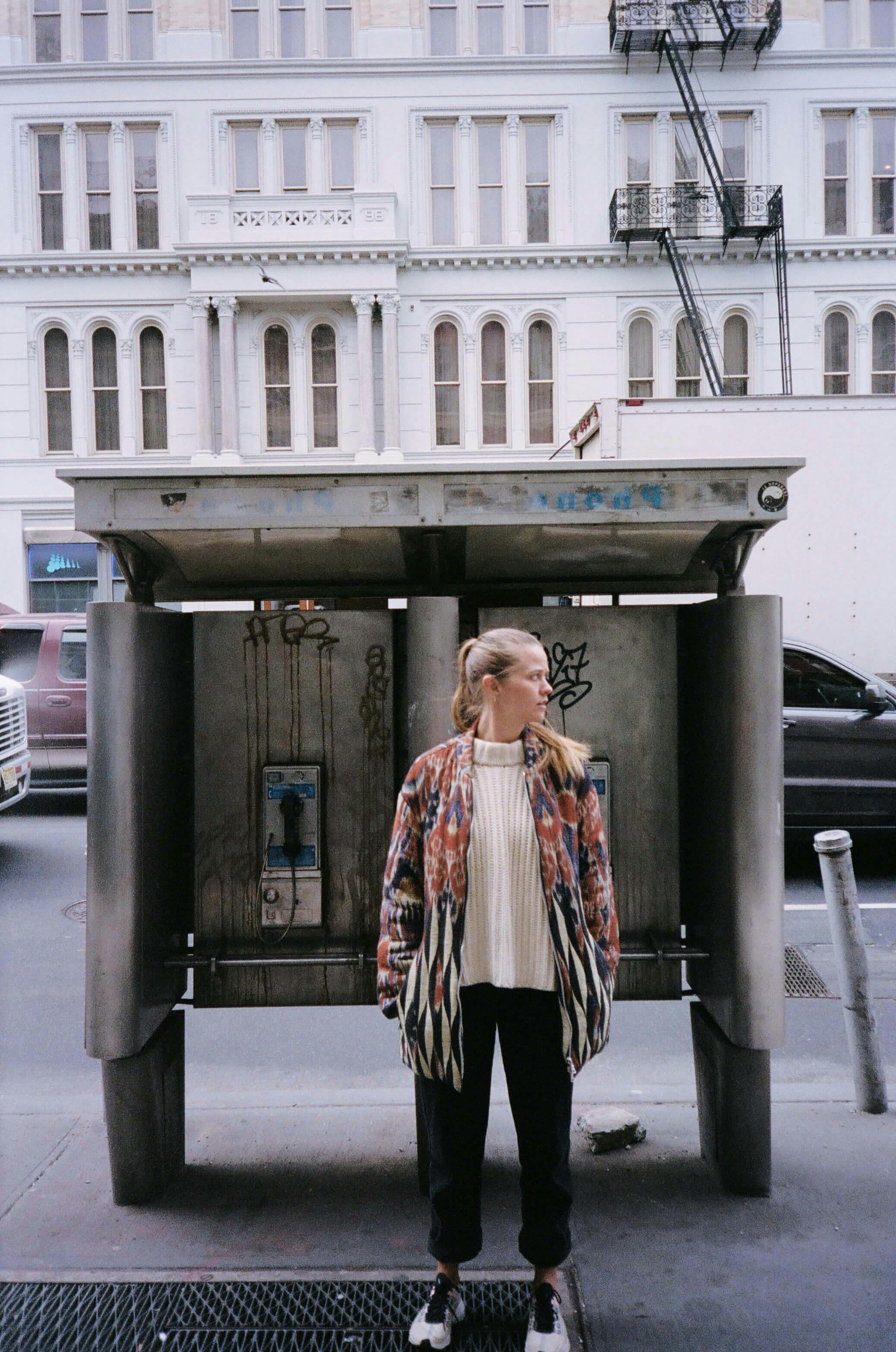 How did you get started in the floral business?
It kind of happened by accident. I moved to NY and was waitressing as an interim while figuring out what I wanted to do. And I took a job as a landscape designer because I always loved gardening and it felt right. And then when winter came, I got a job at a flower shop and I realized I really like this. And it kind of developed from there. It was something that I had seen people do and it sounded like a nice career but it wasn't something that I thought was a reality for myself. Maybe the reason the flower thing worked out was that at the time it felt really right and I didn't really have a plan.
How did you go from working at a flower shop to starting your own?
My boyfriend at the time was super supportive and was very ambitious and he was encouraging me to do my own thing. So I started selling plants at the Brooklyn Flea on the weekends. At the time, he was working in the fashion industry and he introduced me to people to do some small jobs, which led to bigger jobs and it grew organically from there.
In the beginning, I did one off deliveries for friends of friends and then I was hired by a stylist to do flowers for a lookbook shoot. And I guess my "break" was when I did Pamela Love, a jewelry designer's wedding that was featured in Vogue. I don't know if I have the proper experience behind me but it helped me get my foot in the door and people started to reach out to me. This was before Instagram was really a thing. So really at that time it was still word of mouth, which it is still now but there wasn't a platform to get your work out there. I had a little blog and it was really friends telling friends.
How did you decide on the name?
Fox Fodder Farm is kind of the name of the farm that I grew up in Delaware. My mom came up with it. I didn't really intend it to be the name of my company. It was more the name i was using for my stand at the Brooklyn Flea because I was like Fox Fodder Farm, cute. This is Brooklyn and everyone likes a name with "farm" in it and it was Brooklyn 10 years ago. And it just kind of stuck.
I never really envisioned it to be this business that I have today and the way that it is but what I do like about it is that it allows for growth into other areas. It's not just "Flowers by Taylor" so it could be so many things, which hopefully it will be.
What kind of things would you want to expand to?
Without sounding totally boring, I would love for it to be a lifestyle brand, because I'm lacking in a better way to describe it. I'd like us to branch out into good solid workwear or a vase line. I'd like to move into more product and noffer things that encompasses the sentiment and ethos of what we are doing. Working with flowers, while I learned that design is so much a part of it, it's also a feeling and creating a feeling around something and that's ultimately what I want to push towards in other areas.
What kind of feeling do you want to give off?
The floral industry became rather inaccessible. For a while it was reserved for luxury and I really want things to maintain that feeling of luxury but to be really accessible. Accessible luxury. And with flowers there is a lot of nostalgia and sentimentality and so I want to harness that as well. The way that it is with our flowers, it's a simple pleasure that feels good and it's of a certain quality that is good and it's not trying too hard. It's not overly complicated. It's not trying to be in any direction. It is what it is and it's good and nice.
And flowers are expensive. To grow them it is expensive. You have to think about the fact that it is a living thing and somebody planted it from a seed and grew it and cut it and shipped it. By the time it gets to you as a consumer, there are so many moving parts and people forget that. With flowers, it's like it's only going to last me a few days and it's expensive. But by purchasing that thing you are supporting so much more. It's not just about the product itself. It's about all the work that goes behind it.
People think about it that way when they buy food. People want to know where it's from, whether it's local and if there is a farm, they want to know where it is. And I want the floral industry to be like that on a mainstream level.
What kind of community are you trying to create?
I would love it to be for everyone. I think we are providing education and transparency with how things are and how things come to be. Some are really hard to grow and some aren't and that's why some are really expensive and some are cheaper. The awareness and getting people informed has a value.
Why did you join Canal Street Market?
I joined from day 1. Before they opened, it was presented to me. We were kind of in a transition phase. I felt it was time to push to something else and we didn't have a retail space at the time. And I wanted to have more of a space, a place for people to come and visit.
What kind of community do you think Canal Street Market has created in Chinatown?
I think that CSM has done a really good job of involving the community in various ways from all the events with kids or doing Chinese New Year or doing yoga classes. It's attracting the skater kids to the parents with kids to the people who are working in the offices in the area. I think there is something for everyone and it doesn't feel exclusive. It feels very inclusive and I think they did a very good job of creating that environment.
What is your go-to vendor at CSM?
The go-to vendor is Office Coffee because they keep us going. But I really love what the guys at Dandy Farmer are doing. They do the little bonsai, the bonsai guys and it's not just because I love plants. They took something that seems like a difficult thing and made it more accessible to a wider audience. Everyone loves the idea of caring for plants and they made it so that as long as you have light and are going to pay attention to it, you can have this really cool plant that's way more special than the plant from Home Depot. The've done a really good job of marrying a high design quality with a product that seems inaccessible but made very accessible.
What's a memorable moment you experienced at Canal Street Market?
There is dog walker in the neighborhood and he comes every afternoon. He's got these two massive dogs. He comes with 3-7 dogs at any time but it's really cute because he'll line the dogs up in the flower shop and take photos and it's really fun. It's nice because there are people who come in everyday.